Second City
Improv Acting, Sketch Writing, Music Improv
This is what I wrote when I first signed up for classes at Second City:
I don't think that I have ever been afraid of something so much in my life. At the same time I am more excited than I have been about anything in a very long time. I have always had a secret wish to act. I started acting in Junior High when a friend of mine wanted me to come along with him to audition for the school play. Turns out that I got a part and he didn't. Since then it has been in the back of my mind to do something with it, but it never really seemed like it was a real way to make a living. Don't know what it will turn into, but I am glad that I am starting.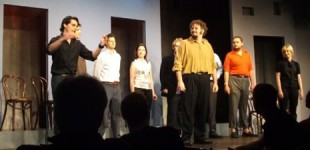 Looking back, I guess the big thing for me was how much I enjoyed improv. I think that can be attributed to having some great teachers, Andy Eninger, Judy Fabjance, Craig Uhlir, and Jackie Stone. Andy and Judy were gentle and loving to get us started, Craig kicked us in the ass to get us better, and Jackie brought in the finishing touches to bring a whole show together. Our end of class improv shows were very fun and hopefully entertaining. I was really lucky to be working with such a great group of people.
---
We Get to be Canadians
Co-Producer, Stage Manager
Worked with Andrew Felper, Laura Bell, Chris DeRose, and a great cast to get the first We Get To Be Canadians sketch comedy show up off the ground. It was a great experience to see what it takes to put a show on. A lot of good people came together and put in a lot of hard work for what turned out to be a successful run.
Andrew Felper described the show as:
Tender moments between a insistent father and his children, Jesus and his shortcomings as a carpenter, pre-steroid baseball and senior prom moments expose laughs at the expense of American superiority and ethnocentricity as only a twenty-something liberal democrat can conceive.